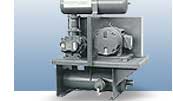 Aeration Store has the capability to produce complete blower packages. In order to buy a complete package from us, you will need to order at least 3 things separately. We will assemble your package at our factory automatically unless you specifically instruct us to ship items loose.

Blower — please select your blower or contact us to recommend the proper size.
Motor — you will need to order a motor that is slightly larger than your brake horsepower requirement. Our motors do have a 1.15 Service Factor.
Package — you will need to select the proper size of blower package, based on the size of blower connection listed next to the blower that you are purchasing. (For example, a SutorbiltTM 5L has 4" connections. A RootsTM URA147 has 3" connections)
You may also wish to purchase some accessories. The most common ones include relief valves, check valves, pressure gauges and sound enclosures. Most of these items are available for purchase on our site. If there is something you don't see that you would like to buy, please send us a message (info@aerationstore.com) and we will respond to you with pricing and availability immediately.